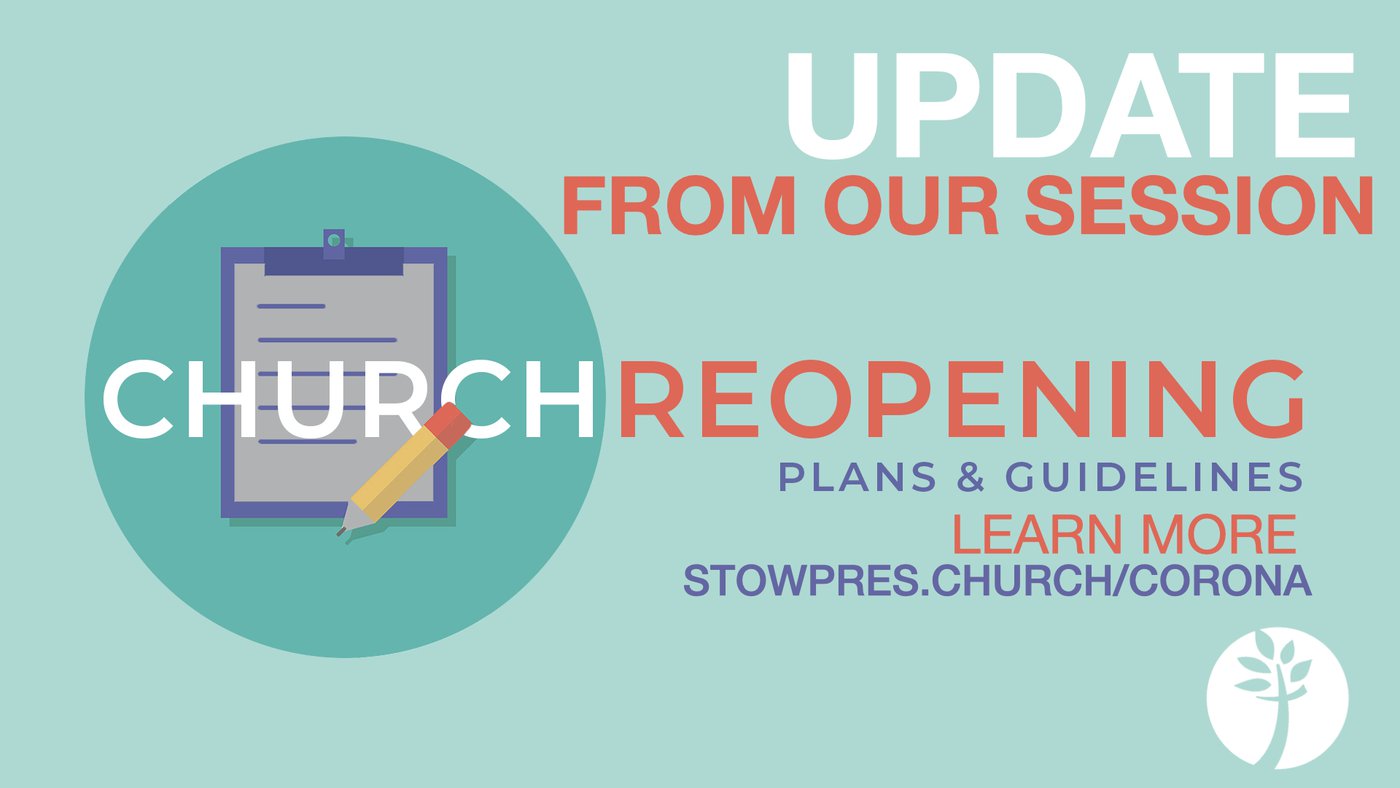 We Are Worshipping Via Livestream Only At This Time
Friends,
Here at Stow Presbyterian Church, plans are underway to tentatively reopen our Worship Center sometime in August 2020 for corporate worship. Due to the rise of COVID 19 cases in Ohio, and across the nation, the Session of Stow Presbyterian Church felt it was the Lord's desire for us to continue with our Livestream Only Worship Format and NOT to reopen on July 5th, as we planned. . We hope to see a downturn in the spread of COVID-19 for several weeks before we implement our reopening plan, and our prayer is to see that occur on the very near future. While this could mean a delay beyond early August 2020, we are very hopeful this will not be the case.
When that day comes, please know that every precaution will be taken to provide a safe, welcoming, and comfortable environment. Please take a moment to watch the video update and take note of the FAQ's below. If you still have a question or concern, please feel free to email or call Stow Pres for more information. We understand and appreciate the concerns that have been expressed during these uncertain times. Whether you are able to join us physically when we reopen, or if you need to continue on the Livestream for the time being, know you are loved and appreciated as part of our church family. As more information becomes available or should circumstances change, we will keep you updated via email, social media, and our webpage. God is in control, and we are trusting in Him for guidance as we seek to complete the gospel work entrusted to us. The Session is prayerfully seeking to do so in the most responsible and effective ways possible in the midst of this COVID-19 Pandemic. Your prayers, support, and understanding are greatly appreciated during this unprecedented time in our nation and our world.
With love and gratitude for you all,
Pastor Bob
Return to Worship FAQ's
When will we return to worship in-person?
That date is yet to be determined. Our Elders, or Session as Presbyterians call our Ruling Elders will meet on or before August 1st 2020 to evaluate the situation and make a decision at that time. More details and confirmation of a reopening date will occur in the coming weeks.
What led to the decision to not reopen at this time?
The significant spike in COVID-19 cases reported here in Ohio, and across the nation caused our Session to prayerfully make this decision this week. Our Session has a sincere desire to serve the Lord and love our neighbors, which precipitated this decision.
Will there still be a video livestream online?
Yes, we will continue to offer a livestream through our website every week, though it will be less-edited and feel more like you're sitting in the worship center. We plan to offer a complete livestream at least till the end of 2020.
Below, You Will Find Details Regarding Our Plan to Reopen With Our Date TBD:
When will the doors open on Sundays?
We ask that you do not attempt to enter the facility until 10 AM. At that time, the main doors will be propped and left open throughout the service. This allows us to comply with health recommendations from the CDC and the Ohio Department of Health. Please do not attempt to close the doors during worship.
What can I expect when I come to worship on a Sunday in-person?
A greeter will meet you at the doors and ask that you wear a mask. This allows us to protect our brothers and sisters in Christ. If you don't have a mask, we will gladly give one to you.
You will be asked to make your way into the Worship Center, following the traffic patters on the floor to both enter or exit the Worship Center.
In the Worship Center, there are smaller groupings of chairs or "pods of chairs" to allow different sizes of households to sit together.
Please do not sit in pods with those outside your household at this time.
We ask that you leave your mask on throughout the duration of worship. Our staff will also be wearing masks when they are not leading worship from the platform.
Our Worship Service will include all of the usual elements in our order or worship, but one less song to abide by the recommendations of health officials. The entire service will usually be less than fifty minutes in length.
After the worship service concludes, we ask that you leave in an orderly fashion, allowing folks in the back of the room to depart first, and then leaving in order (from the back of the room towards the front)
Please allow six feet of space between parties. The doors for entry and exit will be clearly marked and we ask you follow those arrows to keep foot traffic moving in a safe manner.
What about Greeting Time, Offering, and the Lord's Supper?
At this time we will not have a regular greeting time, and we ask that you keep social distance between your pods/households until you exit the building.
We will not be passing offering plates at this time. Please consider using our online giving or contact the office to arrange for autrodraw giving. If you do need to bring a physical check or offering envelope, please place it in one of the receptacles in the back of the Worship Center as you enter or exit. Please remember that no envelopes will be available at the church on Sundays.
The Lord's Supper will be offered the second Sunday of the month, and we will use prepackaged elements. Should you wish to participate from home, please use only bread with juice or wine as your elements, and do so only when instructed by the pastor.
What changes have been made to the facility to deal with COVID-19?
Our Campus Team worked with professional contractors and have cleaned every surface in the facility in accordance with CDC recommendations.
All occasional seating has been temporarily removed from the lobby and cafe
Many areas of the facility outside of the lobby, Worship Center, and main restrooms are currently reserved to staff only
The chairs in the Worship Center have been spaced into "pods" to allow households to sit socially distanced
Floor Markings have been added to encourage proper distance and allow entry and exit pathways to be clearly indicated
Hand Sanitization Stations have been placed at key areas in the facility
Routine cleaning has increased, with extra care being taken to disinfect high contact and high traffic areas
Deep cleaning of the facility will occur following every corporate worship gathering in according with recommendations from health professionals
What about Kids and Teen Ministry?
Because of the higher transmission rates between younger people and older adults, we have temporarily suspended all kids and teen ministry at this time. We will continue to provide kid's ministry on the Kid's Stuff Page.
Will there be Nursery?
As stated above, we cannot offer nursery at this time in order that we address these concerns. Parents will find an open area in the back of the Worship Center. They are more than welcome to sit down on a blanket if they wish, or to sit out in the lobby when necessary since the doors will be open between those spaces. Little ones are always welcome in worship!
I have read a great deal about singing in churches related to COVID-19...will there be singing?
There will be three songs sung in worship. The Worship Team should be the only ones singing without a mask, and they have been placed farther from the congregation. The act of corporate singing is a fundamental part of our Reformed understanding of corporate worship, so we have worked to integrate this important element in as safe a manner as possible.
What if I am physically unable or just not comfortable attending in person?
We understand that people from our church family may not be able nor ready to resume in-person worship at this time. We will be doing our best to offer a full livestream of the service each Sunday, with replays on our website just as we have been doing. We love you all, and we are doing our best to provide options that both honor Christ and keep our church family united to serve Him.
What if I have a question or need not addressed here or in the video?
Please contact us using the form below or talk with your Shepherding Elder.
We will do our best to address your needs as we draw closer to the Lord together!
Contact Us