THE BIBLE IS ONE STORY
While we all have our favorite verses, or even books of Scripture, the Bible was always meant to be one cohesive story of God's redemption. Every word throughout the Old & New Testaments come together to reveal God's unfolding narrative of Creation, Fall, Redemption and Restoration. For the year of 2022, we want to challenge everyone at our church to join together and read the entire Bible in a year!
INTIMIDATING? THERE'S AN APP FOR THAT!
Reading the whole Bible can be scary - and not just if you're a new Christian. It is a confusing book. More people than are willing to admit get to maybe Leviticus before giving up. But it doesn't have to be that way. Most of us would find it way easier if we just had a guide, someone to talk to us along the way about what we're reading, introduce us to larger themes and context, give us overviews of a whole book before we dive in, etc.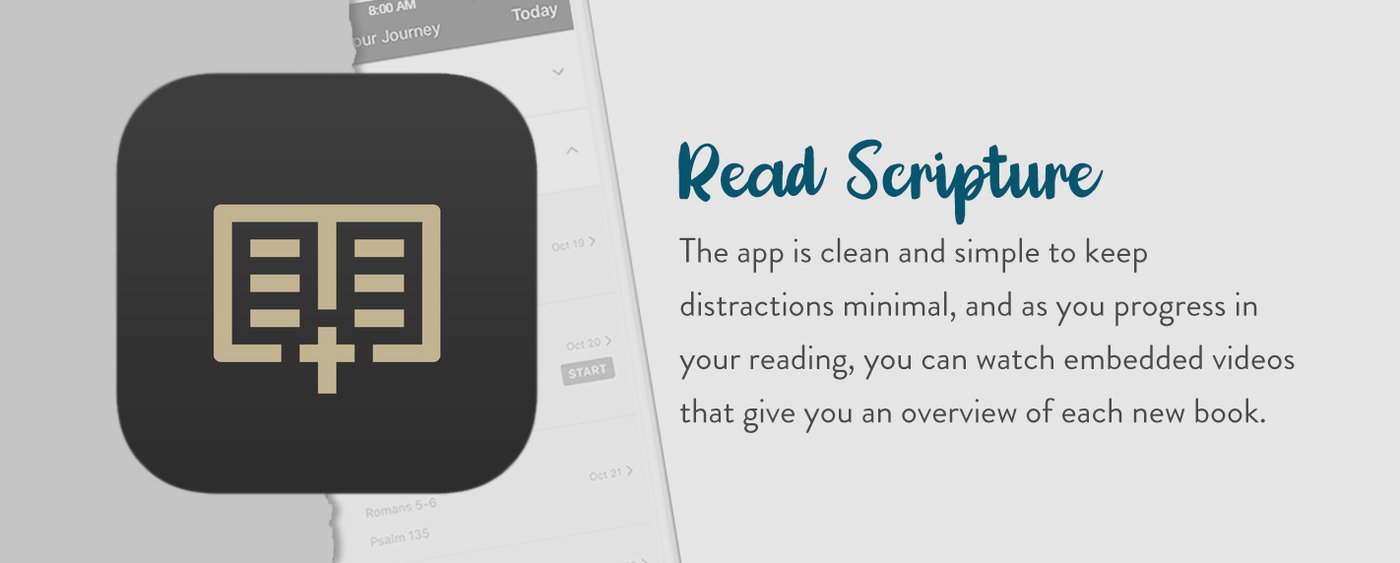 Well ask and you shall receive. We are using an App called Read Scripture. The app is important (but not required - keep reading below), for a few reasons. First, it provides your Reading Plan Schedule. Below we'll get into some setup details, but once you put in January 1st as your start date, everyone joining us will be reading the exact same Scripture each day. You can check off days as you complete them and you can even have the app remind you to read at a certain time each day. Readings are broken up so you can complete each day in 15-20 minutes at average reading speed. Everyone can find that time!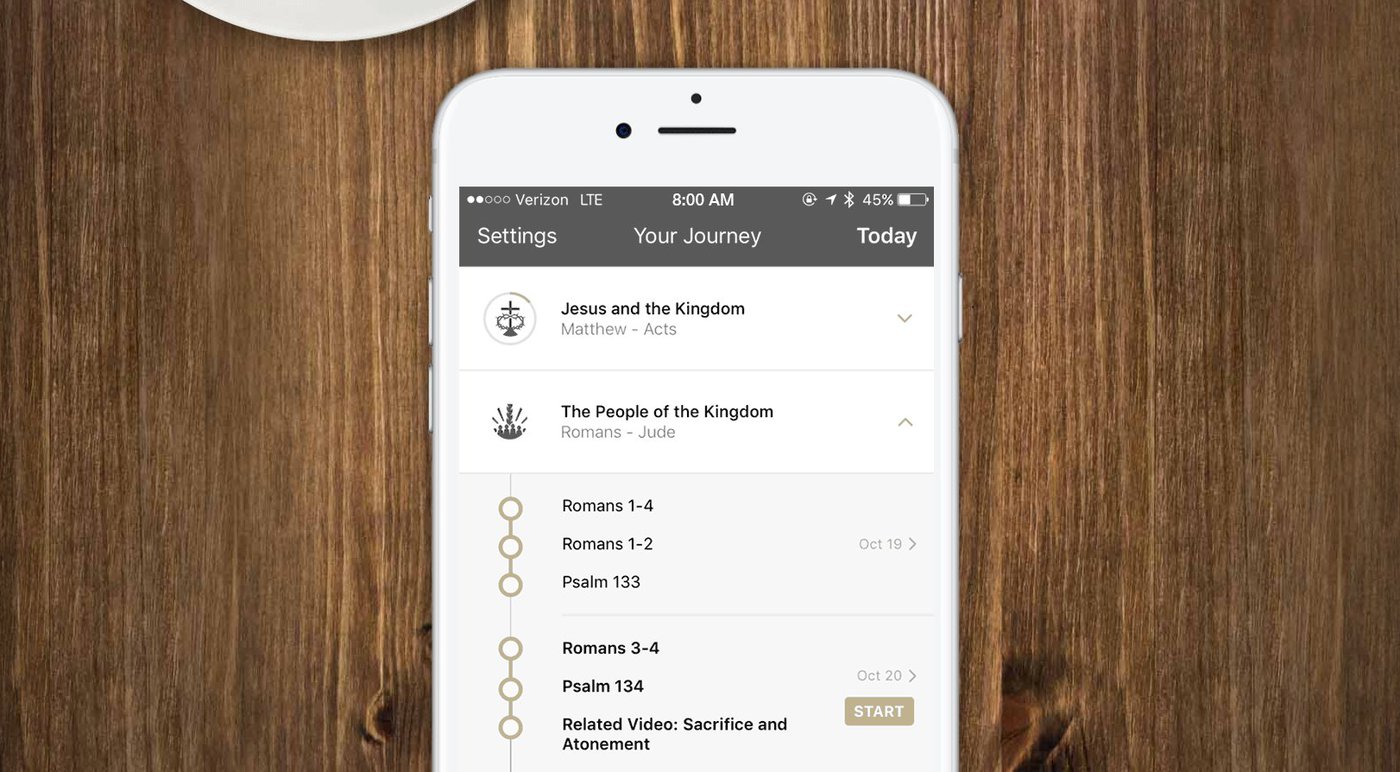 But there's so much more. The app also provides context. As you encounter new books of Scripture, Read Scripture will give you amazing videos that introduce the book's themes, cultural context, characters, chapter breakdowns, and more. There are also videos that zero in on theological topics as you encounter them. Check out the very first video of the first half of Genesis to see what we mean....
Now when you start reading Genesis, you'll know what's going on from the start, which is sure to keep your motivation up. It'll also help you to read with much more depth, as you start to connect themes together along the way.
I HATE TECHNOLOGY! CAN I STILL PARTICIPATE?
Absolutely! Before you throw in the towel, I would encourage you to scroll down and check out the instructions on getting started with the app. You may find that it's easier than you imagined! However, we totally understand that technology and apps just simply aren't for everyone and we don't want to leave you high and dry.
We've created a downloadable PDF that has all the readings scheduled out for you. Just start on January 1st like everyone else and read along. The PDF includes titles of the videos that would show up in the app. You can search for them on Youtube. Each week we will also email out links to the relevant videos for that week in our Monday FYI E-Newsletter. You can click the button below to download and print your schedule, or we'll have copies for you to pick up in the church lobby starting on Sunday January 2nd, 2022.
GETTING SET UP IS EASY!
First things first, take a moment to pray. Pray that the Lord would give you strength, wisdom, and endurance as you engage with God's Word this year. Apps are great, but we know that they are only a tool. It is the Lord, through the Holy Spirit that will make Scripture come alive to you as you commit to reading with us in 2022!
Second, do not get discouraged. If you miss a day you can always catch up. If you miss a week, just skip to whatever the current day's reading is and you can go back later and finish what you missed. Don't get discouraged if you fall behind. Discouragement is the enemy of progress and getting things done. Life gets busy, we've all been there. That being said, here's how you get started.
1. DOWNLOAD THE APP - You can download it either on the Apple App Store or Google Play Store, depending on which type of device you have.
2. Open the App and click through the intro prompts. When you get to the main reading page, Click "Settings" in the top left corner of the screen.
3. In settings, under "Reading Style" select "Read Every Day"
4. Under "Start Date" click on the date and select January 1st, 2022.
5. Click Home in the top left corner to return to the main reading screen.
That's it! Now you can see each of the readings with the reading date next to them. Click on the reading for each day to be taken straight to the Scripture page. Each week you will read a portion of Scripture, see a video in line with the verse if applicable, and finish with a Psalm and time of prayer.
READING IN COMMUNITY
One final important thought as you get started. As the body of Christ, we believe that Scripture is meant to be read and studied in community. We also recognize that we cannot gather together every single day - life is busy. Therefore, we will be hosting gatherings throughout the year for all of those participating in our 2022 Read Scripture Challenge. These will likely be monthly.
We'll get together, perhaps after church for pot luck lunches or something similar. We'll look at the big picture of what we've read thus far, take some time to discuss favorite passages around the lunch table, answer questions anyone may have and pray together.
Our hope is that over the course of 2022, we as Stow Presbyterian Church, can become more immersed in Scripture, so we may be known as a place that loves the Lord, loves His people, and loves His Word. We hope you consider joining us in this challenge. Gyms are overrated - make a resolution to dig into Scripture in 2022!
If you have any issues or questions, please contact Pastor Vince at vince@stowpres.church.