NEW BEGINNINGS Series
Today's Lesson
Faithfully NEW!
The past few weeks, we have been talking about "new beginnings". The birth of Jesus and the creation of the world are probably the biggest and best "new" things God made happen!
But did you know that God can make crazy big new things happen in your life…every day?? That's so amazing to think about. The God that created the entire earth can work wonders in your life as a kid.
Maybe sometimes you are tired of the same things every day. You get bored playing the same games. You get frustrated dealing with your brother or sister sometimes. Maybe you just don't like school anymore.
But guess what? God makes NEW things happen in the lives of His faithful followers all the time. Things you could never dream could happen to you! God just asks for people to believe that He is the master of new things and that He has a plan for you. We are ALWAYS rewarded for being faithful. Don't believe us? Let's see what happened to a very famous married couple in the Bible…a very long time ago. But what happened to them is a lesson for us still today.
Let's meet Abraham and Sarah!
Let's Talk About This!
So what was the "something new" that Abraham and Sarah prayed for?
Back in the times of the Bible, having children was a sign that you were blessed by God. Abraham and Sarah knew they followed God's law, so why did God not bless them with a new baby when they were young?
Have you ever waited for what seemed like forever to get something that you asked for over and over? Were you able to sit still while you waited or were you worried that you may never get it?
That's probably how Abraham and Sarah felt. What happened to Sarah after the years passed, did she still think she was going to get pregnant?
I wouldn't either! How do you think Sarah felt?
Why do you think God made them wait so long?
God wanted them to be faithful – no matter what. He needed them to trust that He had a plan for them and that they would always get what was best for them
in the end.
What did God finally promise them?
That's right – a baby!! But how old were they by then?
Do you know of anyone who is 100 years old and having a baby????
That's what made this a miracle. But when God told Sarah she was going to get pregnant, what did she do?
Yep, she laughed! In fact, what did her son's name, Isaac, mean?
Ha ha right again – laughter!
But God did eventually answer the prayers of Abraham and Sarah. And all the while, God used them to show others how to be faithful, even if it seemed like God was not answering prayer.
God uses us that way sometimes, too. If you can be patient and faithful to God while waiting for what you asked for, you can show others how to do the same. You can also show others that God is worth waiting for. Because God ALWAYS answers prayer in a way that is best for us. And although He does it on His own time, we know He loves us so much that He will take care of us. God ALWAYS
keeps his promises!
So let's be faithful followers and live a life that obeys God. Let's always ask for what we need in prayer but then patiently wait for God's answer and plan for us. God will make things new…we just have to be faithful!
Memorization Verse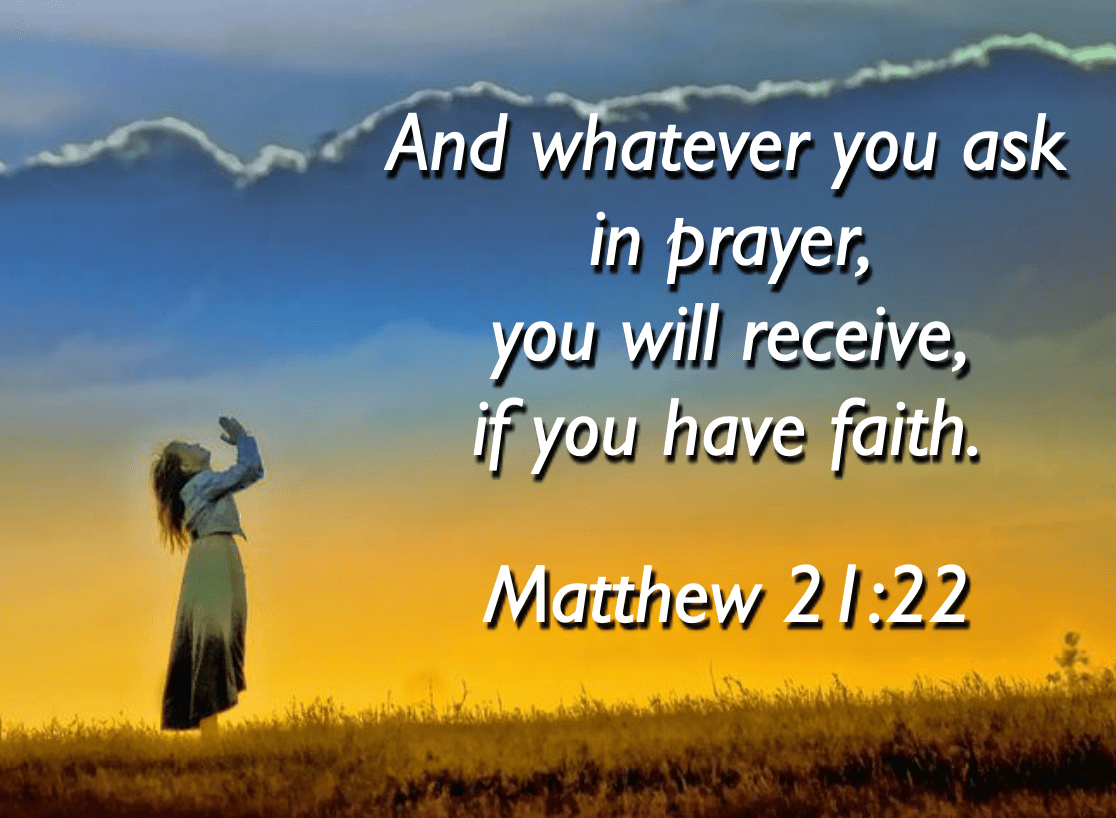 Let's take a moment and come to God in prayer, asking for something new and amazing to happen in our lives today!
CRAFT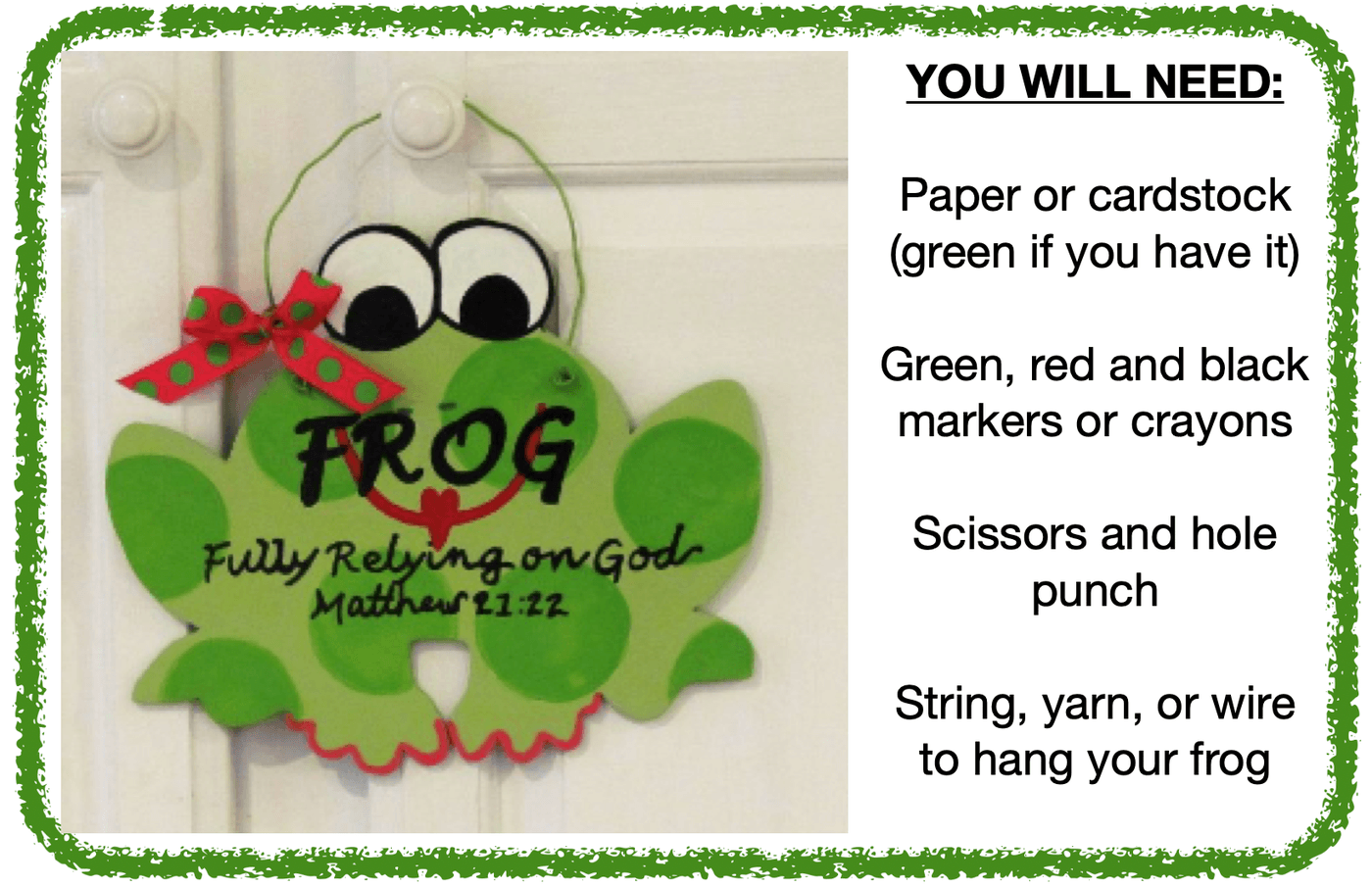 INSTRUCTIONS
Using the picture above, trace your frog
Use the picture as a guide to color your frog any way you like!
You can even look up frogs on line to see the many different colors they have
This is YOUR frog – make it any way you like!
Add the word FROG to your design
F means FULLY (doing it all the way)
R means RELY (making sure that you trust)
O and G mean ON GOD (be sure to trust God completely!)
Write FULLY RELY ON GOD like the picture
Add our Bible verse Matthew 21:22
This reminds us to be faithful and wait for God's promises
Add holes and something to hang your frog
Remember, God already has plans for you and will provide all things new that you need. Just be faithful…He always makes good on His promises!
SPC knows that God will make many things "NEW" for you many times in your entire life. We celebrate all the amazing things God will do for you and we are here to help you be faithful while you wait for God to keep his promises
SPC LOVES YOU!