LET'S ALL FLOCK TOGETHER
Lenten Series
Today's Lesson: Everlasting Inheritance
Oh my! In…her...i…tance
That's a HUGE word! Can you say it again?
So what is an inheritance?
For families, an inheritance is something that a past relative leaves for us after they are gone. Sometimes it's money, a house, or maybe even a pet! If we "inherit" something from a relative (like a parent or grandparent), it means we receive it from them when they no longer need it.
And then what do you do with an inheritance? Well, guess that depends on what it is. If it is money, you could save it or spend it. If it is a house, you could live in it. If it is a pet, you would need to continue to care for it like your relative did.
Last week, we talked about being part of God's family - a member of the flock with God as our shepherd. And, as part of that family or flock, we have an inheritance from God. What exactly could that be? We know God isn't going to give us a house, or money to spend.
Memorization Verse
So what IS the inheritance God keeps for us in heaven? It is EVERYTHING so wonderful we can't even imagine it! It is the promise that we will have a place in heaven because we are God's chosen flock. Heaven is a true home because Jesus died for us, making it possible for us to return to that home someday.
Today we will talk about that inheritance…and that it can NEVER perish, spoil or fade. OK...more words to learn!
PERISH means it can be destroyed and never come back.
SPOIL means it becomes rotten, like food, and is never good again.
FADE means it is not as good as it used to be or gone forever.
So our scripture today is telling us that our inheritance from God, kept for us in heaven can never be destroyed and will always be just as wonderful and waiting for us when it's time to go to heaven, as it is now. WOW!
That is an amazing inheritance!
Still trying to understand? Let's watch this video and see if it will make a
lot more sense.
Let's Talk About This!
What really cool thing did Cooper's dad have?
That's right…a remote control car collection. Does your dad have something super cool that you really like?
What did Cooper's dad promise him?
Right again! The promise of something Cooper REALLY REALLY wanted…one of his Dad's remote control cars! But there was a catch…
Cooper had to wait until his 10th birthday to receive it! Oh no! Have you ever REALLY wanted something but told that you had to wait for it? That is so hard to do!
That's what the promise of heaven is like. It is something that Christians want REALLY REALLY badly…to receive their inheritance as a child of God and live with God forever in heaven. But guess what? We have to wait until the day comes that Jesus calls us all home. Yikes!
On Cooper's 10th birthday (finally!), what did he get?
Right! A super awesome red cap, a racing car cupcake, and his Dad's remote controlled car just as his dad promised!
Why do you think Cooper felt extra special about receiving the car as a gift?
Would you feel special if your dad gave you one of his favorite things?
I know I would!
What did Cooper do after getting the gifts?
But what did Cooper start doing with the car? Yes! He was not paying attention to what he was doing at all!
What happened to his new toy while he wasn't paying attention?
OH NO! Pancake!
What happened to Cooper's hat while he was running home?
What about his cupcake?
So his car was run over (perished), his cupcake was no longer something he could eat (spoiled) and his hat was gone forever because it was stolen (faded). Everything Cooper had looked forward to was no longer there!
Do you think Cooper was sad? Would you be?
But here is what our Bible verse from 1 Peter is telling us today. Sometimes, things we are promised on this earth, in this life, do not always happen. Things do get destroyed or perish, or are taken away.
But with Jesus, there is SO MUCH to look forward to! Everything Jesus has in heaven, he is going to share with us. THAT'S our inheritance! Heaven is our true home and we will see God face-to-face and live with Him forever someday.
Because Jesus is the one who has prepared a place for us in heaven, nothing can take that amazing inheritance away from us.
NOTHING can destroy our heavenly inheritance.
NOTHING can steal away our heavenly inheritance.
NOTHING can wreck or fade what Jesus will pass on to us.
So maybe sometimes things we are promised here on earth don't happen the way we would like. But our inheritance in heaven is GUARANTEED! That means it WILL happen, no matter what!
So remember, even if bad things happen, all you have to do is trust in Jesus. Why?
Because in the end, on the day Jesus calls us home to heaven, everything will be good…actually, it will be perfect! And until that day, God is keeping our inheritance in heaven for us. There it will not perish, spoil or fade! YAY!!!
We must always hold on to the hope that Jesus has this special place for us in Heaven and we will inherit everything we can ever imagine.
But until then, we do know that earth is not our home. We sometimes have bad things happen, and we must always go to God in prayer to help us with those things until the day there are only good things in heaven.
What do you want to pray about today? What can God help you with?
CRAFT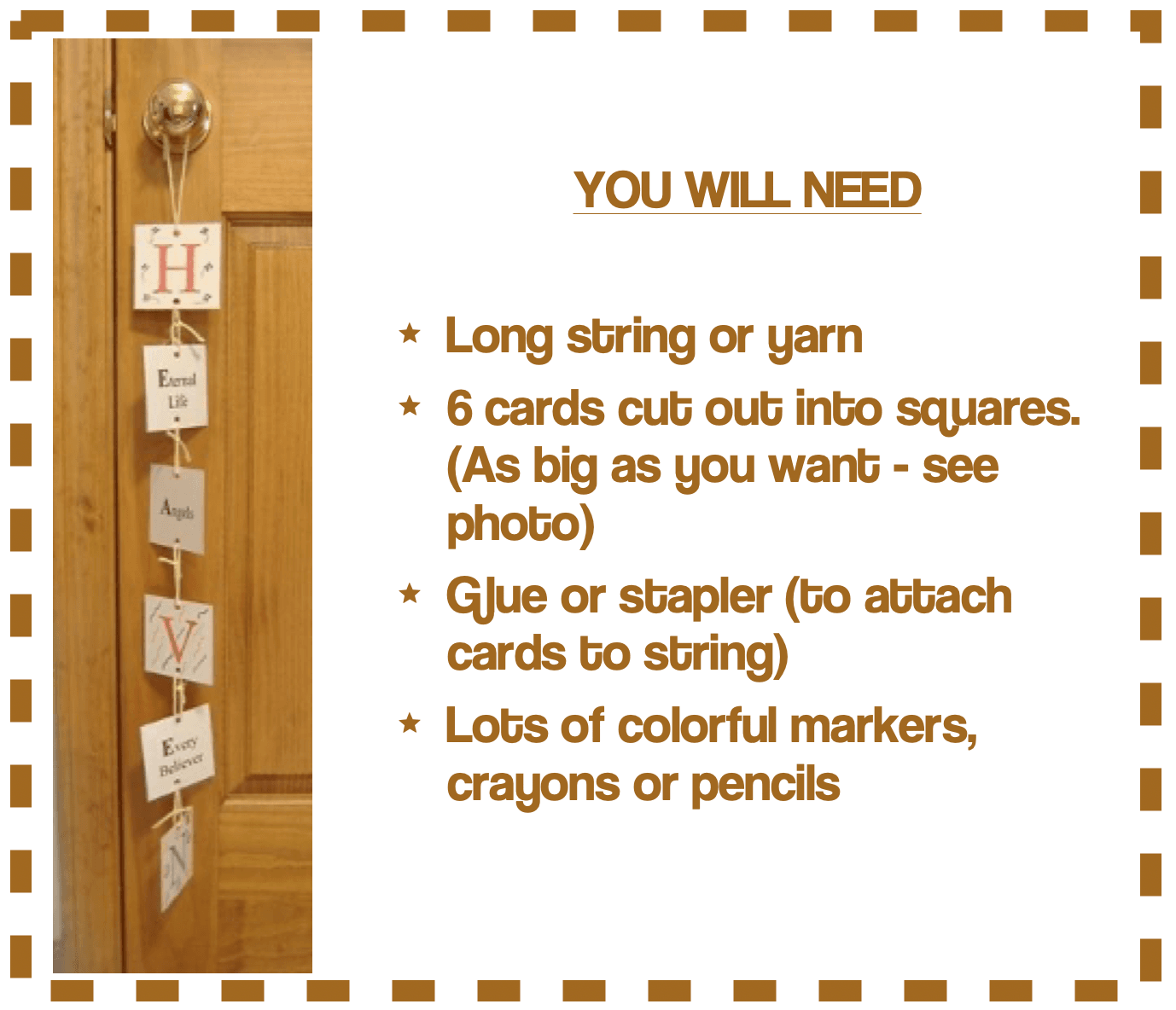 INSTRUCTIONS
On each of the 6 cards, write a letter H-E-A-V-E-N.
Color the letter on each card as colorful as you can! Design it any way you want.
On the back of each card, write one thing you hope for in Heaven.
Is it never being sick again?
Seeing Jesus face-to-face?
Getting to hug all your relatives and friends?
Having Jesus share all he has with you?
Or all of those things and more?
Now decorate the back of each card around what you wrote.
Make it colorful – draw pictures about what you wrote.
This is your mobile…so you can be excited about your inheritance in heaven!
If you have stickers or gems, you can add those, too!
Attach your cards to the string/yarn in this order H-E-A-V-E-N (H at the top)
Hang your mobile wherever you like. Just make sure you celebrate going home someday and living with Jesus forever in heaven. This is your inheritance!
NOW REMEMBER, WE HAVE THE HOPE TO RECEIVE THIS INHERITANCE FROM JESUS BECAUSE WE ARE CHOSEN TO BE HIS PEOPLE, HIS FLOCK. We will continue over Lent to learn more about what it means to be part of that flock. But until then, remember that you, too, are royalty. You were chosen by God and there is a special place waiting for you in heaven that God is watching over.
It cannot perish, spoil, or fade!
At SPC and all around the world, Christians are now in the prayerful time of Lent. We are taking time over the next few weeks to focus on Jesus, his life during his time on earth, and preparing for his death and resurrection. Be sure that you, too, take time every day to think about your love for Jesus, and his never-ending love for you. He died on a cross just for us…so that we have the hope of inheriting God's kingdom in heaven! Amen!
SPC LOVES YOU!